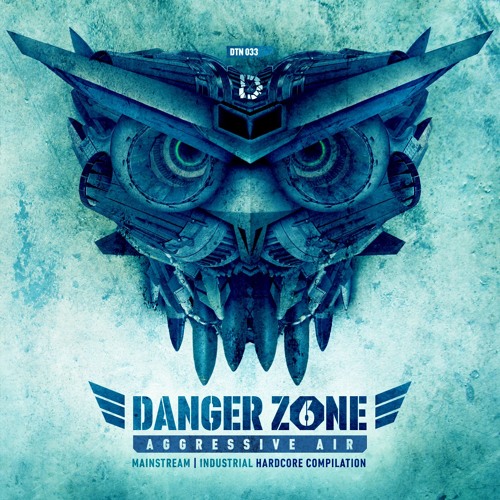 VARIOUS ARTISTS - DANGER ZONE 6: Aggressive Air (2016)
Catalog#: DTN 033
Type: Compilation
Format: MP3 | FLAC
Released: 19 Dec 2016
Style: Hardcore | Mainstream | Industrial | Gabber | Darkcore
Info: The next chapter of charismatic series is dedicated to the Danger in the air and coming from the air. The symbol of this chapter is panther which fully created from the elements of air fighters and military aviation parts.
When metal and explosive elements are falling from the sky instead of rain, then it is time to raise our heads and spread our social message:
We will not be silent! We Are Not Indifferent!
We Are United Gabbers Against Racism & Fascism!
Hardcore Against Inhumanity!
Joint The Resistance! Hardcore 4 Life!
CONTROL ZONE 6A:
1.01 THE FATHCORE - Destiny (4:44) (175 BPM) (2016)
1.02 HARD-TEX - Art Of The Melody (4:51) (174 BPM) (2016)
1.03 SANCHUK - Voice Of Anarchy (5:10) (175 BPM) (2016)
1.04 THE DAMNED - Night in Aleppo (5:11) (175 BPM) (2016)
1.05 ESOX - Three Deep Breaths (4:27) (168 BPM) (2016)
1.06 ANGELS OF CHAOS- Hall Of Faces (5:50) (190 BPM) (2016)
1.07 BRUNO - She Haunts My Thoughts (BRUNO Remix) (5:23) (180 BPM) (2015)
1.08 KRIMINAL - Seduction (2016 Edit) (4:29) (167 BPM) (2016)
1.09 D-VERSION, HOW HARD, MARIO MORBID - The Hardcore Sound (5:21) (170 BPM) (2016)
1.10 NNN - Alcohol (4:57) (155 BPM) (2016)
1.11 MACHINA - World Of Hate (5:53) (175 BPM) (2016)
1.12 PAUL SITTER & ANDY WOLF - Release The Power (4:52) (172 BPM) (2013)
1.13 DJ FALCHION - Back To Oblivion (4:35) (180 BPM) (2016)
1.14 PSYCHOWEAPON - Forbidden Zone (2016 Rebuild) (4:35) (185 BPM) (2016)
1.15 [D]ANGER - Illusion Of Freedom (5:47) (162 BPM) (2016)
DROP ZONE 6B:
2.01 BRUNO - Warface (5:40) (148 BPM) (2016)
2.02 THE DISTORTED SOUND - Vampire Castle (3:17) (150 BPM) (2016)
2.03 R-4IN - Tomari Bassai (5:21) (175 BPM) (2014)
2.04 AZURE MOON - Under And Over It (5:02) (230 BPM) (2015)
2.05 PSYCHOWEAPON - Disciples Of Shiva (4:12) (190 BPM) (2016)
2.06 OVERCORE- Blessed (2016 Rework) (4:04) (210 BPM) (2016)
2.07 THA KRONIK- Drop Raw (3:53) (200 BPM) (2016)
2.08 BRUNO - Roughcore(5:38) (220 BPM) (2016)
2.09 R-4IN - Just Like You (4:43) (174 BPM) (2016)
2.10 POCOTAN - Scientific Discovery (5:26) (180 BPM) (2016)
2.11 NOIZE REAPER - Release Onto The Earth (6:16) (200 BPM) (2016)
2.12 LINCH.R - Glamour Pour Les Femmes (ESOX Remix) (5:10) (170 BPM) (2014)
2.13 SHAYKRAIX - Everybody Has Two Faces (5:19) (170 BPM) (2016)
2.14 MULTIARMS - You Don't Know (2:55) (180 BPM) (2015)
2.15 KALANI- Routine Dies (3:43) (175 BPM) (2016)
2.16 BRUNO - She Haunts My Thoughts (R-4IN Remix) (5:34) (175 BPM) (2016)
TECHNICAL ZONE 6C:
3.01 ENGAGE BLUE - The Sinker (4:50) (177 BPM) (2013)
3.02 BRAINTUNE - Sound Of Silence (3:12) (140 BPM) (2015)
3.03 CELLMAC- D.I.Y. (6:18) (129 BPM) (2016)
3.04 RADON - Escalation (5:01) (155 BPM) (2016)
3.05 MACHETEK - Sonic Perverts (5:26) (200 BPM) (2015)
3.06 SUMMA - Kill You (6:19) (160 BPM) (2016)
3.07 MACHINIST- The Destruction That We Deserve (7:04) (140 BPM) (2016)
3.08 I.N.D.- Fuck The Fakes(8:00) (250 BPM) (2015)
3.09 CELLMAC - Blacktron (5:47) (132 BPM) (2015)
3.10 ENGAGE BLUE - Catalyst Of Faith (6:28) (177 BPM) (2013)
3.11 DEEP SPHERE - Nothing Can Change That Story (Sunshine Special) (3:01) (152 BPM) (2014)
3.12 C-[PHALEA] - Detonator World (4:25) (148 BPM) (2016)
3.13 YHUNYKX - Drop The Shit (MACHETEK Remix) (5:08) (195 BPM) (2016)
3.14 BRAINTUNE - Life... (4:41) (181 BPM) (2016)
3.15 RADON - Broken Codex (3:18) (160 BPM) (2016)
http://www.hpg-detonator.com/music/dtn_033.html
https://soundcloud.com/hpg-detonator/sets/dtn-033